Fire Safety and Fire Warden Responsibilities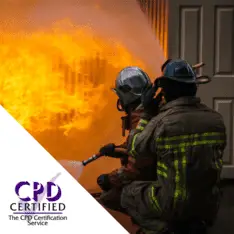 Course Description
Our Fire Warden course is suitable for new and existing fire wardens. It is important that you are aware of how to protect yourselves and others from the possibility of a fire occurring.
Throughout this Fire Warden course, you will be introduced to the importance of fire safety at work. You will also gain a greater knowledge of the legislation, policy and procedures around fire safety at work and will know what action to take if a fire was to take place. From our Fire Warden course you will consider how to reduce the risk of a fire and some of the aids that can be used to warn and assist in evacuating those who are vulnerable.
At the end of this course you will feel more confident in how to handle a possible fire in the workplace and the legal requirements for emergency procedures.
In order to complete the course, you must achieve 80% or more in the final multiple choice quiz.
You will earn 3 CPD points on completion of the course, this course will take around 3 hours to complete and the certificate will last for two years.
On completion of this course learners will be able to:
Describe the nature of fire.
Understand their responsibilities regarding fire.
Identify the causes of fire.
Explain how the triangle of fire works.
Describe the different types of fire warning systems.
Explain to staff where the fire alarm call points are.
Differentiate between the various types of fire extinguisher and explain their uses.
List their responsibilities regarding fire.
Fulfil their duties as a fire warden during an alarm or general evacuation.
Benefits to the learner and employer.
Regardless of industry or sector, most employees are now required to undertake some form of CPD.
The updating of skills and knowledge is critical in keeping abreast of industry changes and maintaining professional competence.
Upon successfully completing the online compliance courses and passing any associated assessments, the learner is able to download and print off their own certificate as evidence of learning and CPD hours completed.
These courses can be completed at any time 24/7, meaning they fit perfectly around anybody's schedule.
It's an ideal and affordable way for individuals and businesses alike to ensure knowledge and compliance is always up to date and relevant.