Microwave leakage testing, is it required in the workplace and should you keep microwave leakage testing on your maintenance agenda?
There's no reason not to…
Update 2021
---
---
Inspect and Maintain
As with all equipment used in the workplace, the employer has a duty to inspect and maintain to ensure the safety of all.
This includes any electrical equipment used by employees, irrespective of whether it is their own, supplied by the company or leased.
It does not extend to contractors tools, although more often it is becoming a requirement of construction and building sites that contractors prove they have a regime of regular testing in place in order to use their own tools on site.
Microwave leakage testing was one of those checks that became linked to PAT Testing . After all, most offices and site cabins have a facility for heating up food, and a microwave oven is an ideal choice, so therefore it makes sense to carry out all the safety checks.
---
---
Code of Practice
The 3rd edition of the IET Code of Practice stated that:
"Microwave leakage should be checked at appropriate intervals" and therefore became part of the portable appliance testing regime.
The 4th edition (2012) now states:
"Microwave leakage testing is not within the remit of the Code of Practice, because it does not directly relate to 'Electrical Safety"
As a result microwave in service leakage testing was removed.
---
---
Microwave leakage testing
Should microwave leakage testing still be a part of your PAT programme?
Considering that microwave leakage potentially exposes the user to levels of radiation which can cause health problems including burns and a weakened immune system*, then periodic testing of emissions shouldn't be ignored. Especially when the same person who carries out the electrical PAT test would be quite capable and qualified to carry out the leakage test at the same time.
After all, just because the requirement for leakage testing has been removed from the IET Code of Practice, it doesn't actually say it shouldn't be done. Therefore as an employer, it would be prudent to err on the side of caution and treat microwave testing with the same diligence as other workplace equipment.
*it was commonly believed that microwave radiation could potentially cause cancer. However this form of radiation is classed as a "non-ionizing" type and does not have the ability to knock electrons off atoms in molecules. Additionally, microwaves cannot make food radioactive.
What requires testing?
The requirements for testing are laid down in BS5175 (now BS EN 60335-2-25:2012+A2:2016 Household and similar electrical appliances). This also covers domestic style microwave ovens that may be used in offices, canteens and B&B's for example that may be used by the public. It covers particular requirements for microwave ovens, including combination microwave ovens, and states that items to be checked for signs of failure include door seals and safety interlock switches.
The actual testing for leakage requires the use of a hand held electronic detector which is swept around the oven (particularly the door seal) to ensure that any radiation being emitted falls within the tolerance of 5mW/cm2.
An emission label would then be attached to the oven stating that it is safe to operate.
Commercial microwave ovens (those found in larger catering establishments and food processing plants), would be tested to the appropriate standards as part of the service regime required for this type of establishment.
---
Health & Safety Today Choice
We Like
---
On a final note.
Whether you decide that microwave leakage testing is to be part of your PAT schedule or not, as an employer there is still the responsibility to maintain work equipment in a safe condition that will not cause harm or ill health to anybody who may use it.
This is laid down in the PUWER regulations 1998 and can be viewed here (what are the main requirements of PUWER)
Of course, to keep something in safe and working order doesn't always require a call out from an expert. As part of your in-house maintenance and inspection regime, it would be expected that the microwave oven is kept in clean and sound condition.
Therefore, unplug the oven from the power socket and wipe the inside walls and carousel clean. Pay attention to wiping around the door perimeter and seal to remove any grease or debris that could prevent the door from sealing properly. Clean the vents. (food splattering often clogs up vents). Check the safety interlock switch works. (i.e. the oven switches off when you open the door).
If there are any failures to the door such as cracks, floppy hinges, or the oven continues to run when the door is opened, then it is a hazard and should be sent for repair, or better still replaced with a new one and send the old oven for recycling.
---
---
And last but not least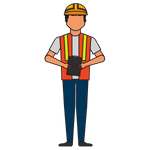 We all have a role to play in effective health and safety, and for those actively involved in promoting safe working practices it can be a rewarding, interesting and varied role.
Please visit this site often where you will find a growing number of articles, resources, advice and opinion.
Whether you are a seasoned health and safety professional, or just getting started, we value your opinions and input so please feel free to comment on any of the posts.
Due to the ever-changing nature of regulations and the law, please visit http://www.hse.gov.uk/ for the very latest information and updates.
---
---
Training and CPD
HST have teamed up with an online partner to bring you health, safety and compliance training at very affordable prices. These courses available 24/7 so you can study at a time to suit you.
Take a look today and consider upskilling yourself or your workforce.
---