Buying a new cot?
When it comes to buying a cot for your baby to sleep in, we often have a number of priorities. First thoughts might be aesthetic. i.e. does it match with the decor, is it a certain style (modern, minimalist, Victorian, Edwardian). However, what really matters is safety in use. So give some thought to cot safety standards UK
---
---
In This Article.
What are cot safety standards and what do they mean?
Cot safety tips.
Bedding and pillows.
Health & Safety Today Choice. BSI approved cots.
Other top accessories
>>> Read time approximately 5 minutes
You would be forgiven for thinking that all cots and baby furniture are required by law to undergo standards testing. The truth is that they are not, so you need to do your own research and be sure that what you purchase is safe for your child to comfortably sleep in.
The benchmark of safety for any product is meeting the British Safety Standards.
The British Standards Institute (BSI) is appointed by the UK Government as the national standards body for the UK. The BSI test thousands of products a year and allow a manufacturer to display the coveted British Standards logo once their product meets the strict test procedures and standards laid down.
That's not to say that cots, baby furniture and other products that don't display the British Standards Kite Mark or CE Mark are unsafe. They might be good quality products that haven't been subjected to the application process. Often these products come from abroad and might have met safety standards in their country of origin.
However, sometimes they don't, and with millions of products arriving in British docks and ports every week it makes sense to be sure of what you are buying.
What are the standards for cribs and cots?
At the BSI website you can look up the current standards reference for virtually anything you can think of. Below are the standards classification for cribs, and two for cots.
BS EN 1130:2019
Title. Children's Furniture – Cribs – Safety requirements and test methods
Status : Current – Published : December 2019
Replaces BS EN 1130-2:1996, BS EN 1130-1:1997
---
Standard Number BS EN 716-1:2017.
Title. Furniture – Children's cots and folding cots for domestic use. Safety requirements.
Status Current.
Publication Date 23 August 2017
---
Standard Number BS EN 716-2:2017.
Title. Furniture – Children's cots and folding cots for domestic use. Test methods.
Status Current.
Publication Date 15 August 2017.
What does this mean.
BS EN 1130:2019
Where BS means British Standard and EN refers to the equivalent European directive.
1130 in this example is the unique reference for children's furniture, (sub-section cribs), and it refers to the safety requirements and the test methods used to determine the safety of the crib in use.
2019 refers to the year the standard was either first introduced, or in this instance when it was last reviewed.
As we can see, it replaces earlier versions from 1996 and 1997. Often this reflects improvements in materials used such as fire retardant, or anti-finger trapping improvements for example.
In the case of cots, the standard is BS EN 716. However, there is a version 1 and a version 2.
Looking more closely, version 1 refers to the safety requirements of the product, while version 2 refers to the test methods required to meet the standard.
Unfortunately, the information available on the BSI website is minimal as they do charge a fee for their full reports.
However, for the consumer, the important detail when buying is that the cot has achieved BS EN 716 standards and awarded the BSI Kitemark. How it got there is probably irrelevant and of little interest, but this is the consumer's assurance that the product has met certain safety and durability standards that have been meticulously researched by the BSI in conjunction with relevant leading industries.
The point is that the consumer can have confidence to lay their baby down in that cot, and retailers can sell that product with confidence.
---
---
Cot safety.
When choosing a cot the NHS offers the following advice.
Your baby will spend many hours in a cot, so make sure it's safe. If you're buying a new cot, look for the British Standard mark BS EN 716-1.
The mattress must fit snugly, with no space for the baby's head to get stuck.
The bars must be smooth, securely fixed, and the distance between each bar should not be less than 25mm (1 inch) and not more than 60mm (2.5 inches), so your baby's head can't get trapped.
The cot should be sturdy.
The moving parts should work smoothly and not allow fingers or clothing to get trapped.
Cot bumpers are not recommended as babies can overheat or get tangled in the fastenings.
Never leave anything with ties, such as bibs or clothes, in the cot as they might get caught around your baby's neck.
The safest place for your baby to sleep is on their back in a cot in the same room as you for the first 6 months.
Baby bedding
For the first few months, you'll need a crib, carrycot or Moses basket (a light, portable bassinet). Your baby needs to sleep somewhere that's safe, warm and not too far from you.
Baby nests are not suitable for your baby to sleep in when you're not there because of the danger of suffocation.
If you're borrowing a crib or a cot, or using one that's been used by another of your children, you should ideally buy a new mattress.
If you can't do this, use the cot mattress you have, as long as it's firm (not soft), flat, fits the cot with no gaps, is clean, and waterproof.
You'll need:
A firm mattress that fits the cot snugly without leaving spaces round the edges so your baby can't trap their head and suffocate.
Sheets to cover the mattress – you need at least 4 because they need to be changed often. Fitted sheets make life easier but can be quite expensive, so you could use pieces of old sheet.
Light blankets for warmth.
Pillows and duvets.
Don't use pillows and duvets – they're not safe for babies less than a year old because of the risk of suffocation. Duvets can also make your baby too hot.
Sheets and layers of blankets tucked in firmly below your baby's shoulder level or a baby sleeping bag are safe for your baby to sleep in.
Information courtesy of NHS baby care.
---
Health & Safety Today – Cot Choices.
While choosing a cot for your baby is a very personal experience, we have researched some examples of beautiful cots that not only meet the standards discussed, but in a lot of cases meet additional standards.
They are from reputable suppliers and available with quick delivery from Amazon.
Enjoy!
1). Tutti Bambini Modena Nursey Cot Bed.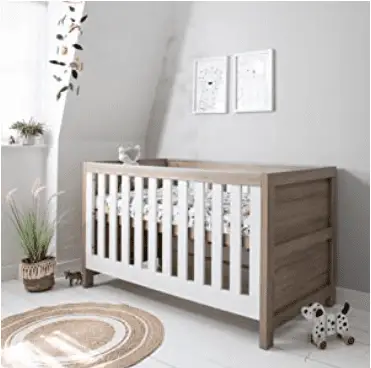 The Modena Cot bed has a beautiful contemporary design combining classic wood finishes with modern white detailing.
The Modena converts into a toddler bed and sofa bed making it the perfect choice for any nursery designed to grow with your little one.
Built to last, the Modena cot bed is suitable from birth up to approximately 6 years.
All Tutti Bambini products are compliant with British Standards for Safety and Performance
Features:
Cot Bed is suitable from birth up to approximately 6 years.
Converts from a cot into a junior bed.
Three-position mattress height with fixed side rails.
Includes two protective teething rails.
Specifications
Dimensions (75 W x 148 L x 85 H cm)
Weight 44 kg
Finish: Oak
Safety Compliances: BSEN713, BSEN716, BSEN8509
---
Jacob Wooden Baby Cot Bed 120x60cm
Cot Specifications
Colour White
Brand Loveforsleep
Material Wood
Item dimensions L x W x H 124 x 65 x 90 centimetres
Finish White
About this cot
Made from the sturdy natural pine wood.

Converts to the toddler bed by using included wooden barrier.

Large covered drawer on quality runners.

Three mattress base positions provide easier and safer access to the baby.

Teething rails prevent damage to the cot and protect baby's sensitive gums.

Deluxe 6cm foam mattress with antibacterial and hypoallergenic Aloe Vera cover.

Highest quality resilience foam supports stable spine.

Removable mattress cover for washing.

Suitable from birth to approximately three years of age.

Wood painted with baby's safe non-toxic paints.

Meets British safety standards:

BS EN 716-1 ✔ BS EN 71-3 ✔ BS 7177 ✔ BS 1877 ✔




12 months warranty and support afterwards
---
Babylo Snuggle Cuddle Bedside Sleeper Crib.
Product Description
This multi-functional bedside co sleeper and standalone cot is super soft with the thickest mattress on the market for added comfort for your baby.
If your little one suffers from reflux when laying down, the Babylo Snuggle Cuddle co sleeping crib has anti-reflux incline positioning to ensure a good night's sleep.
It has been carefully designed with your babies' comfort in mind as well as ease of use for you.
For parents with safety as their priority, it is the safest bedside crib available, and meets and exceeds all EU and UK safety standards to ensure the safest design for your baby.
Specification.
Size 96cm length
Brand BABYLO
Colour Slate Grey
Pattern Solid
Item weight 8.15 Kilograms
About this item.
MAXIMUM COMFORT: The super soft crib has the thickest sleeper mattress at 5cm depth.
FOUR-POSITION ADJUSTMENT: The design offers a snug and secure fit to your bed with a minimum height of 68cm and maximum height of 85cm. The multi-position extending feet provide a more flexible fit.
ANTI-REFLUX & ANTI-FLATHEAD INCLINE POSITION: The incline adjustment helps with congested breathing. Chemical free, breathable mesh sides provide a healthy air circulation.
EU & UK SAFETY APPROVED: For parents with Safety as their priority, it is the safest bedside crib available, and exceeds all EU and UK safety standards to ensure the safest design for your baby.
SLEEPING & STANDALONE COT: Using the safety straps secure to your bed to use as a sleeper or zip up the side panel and use as a standalone crib.
Model Number. BL11903
Dimensions. 96 x 20 x 53 cm; 8.15 Kilograms
Gender. Unisex
Minimum Weight Recommendation. 9 Kilograms
Material composition. Super-soft Cotton
Style. Snuggle Cuddle CO Sleeper
Item Weight. 8.15 kg
---
Other recommended Accessories.
Get your pram or buggy organised and secure.
Discover the best selection in pram and buggy organisers.
Waterproof Cover & Universal Fit – Detachable Shoulder Strap – Fully Zipped Lid – Touchscreen Phone Pocket – and more…
Available for single and double buggies.
See The Full Range at BTR KIDS ACCESSORIES HERE >>>
If you have any top tips for child safety, or wish to share your experience, please feel free to join in the conversation and leave a comment below.
---
Other relevant posts.
What are the British Standards >>>
Article References.
---
---